The homie was just in the city for some days and i thought it would be cool to interveiw him and use photo's he has takin so u can see what he can do and peep what he is about.
How long have you been shooting flicks for, where are you from?
Have been shooting photos for the past two years or so. I'm from Pittsfield, Mass originally though go to school in Castleton, Vermont for next couple months
You where just in N.Y.C for 2 days, how was that?
It was enjoyable got to ride around take photo's and chill with some homies. The main reason I went was for a test that wasn't too entertaining.
Chris johnnson-bump to wall while a lady looks out the window tellin us to go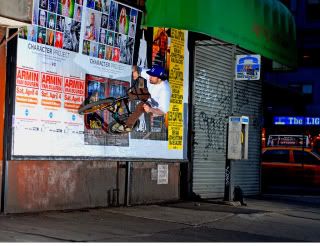 How did you get into the photo game?
I always was interested in photos since I was younger and loved looking at magazines so when I turned sixteen I bought my first camera and have been shooting on and off since. Jake Seeley started taking me around shooting photos and I just began meeting everyone around bmx.
What is your favorite photo you've taken?
Ha this one currently it just got me some money to allow me to stay unemployed even longer.
Jake Seeley-doing a wall 270 lookback to fakie.
Who do you "look up to" in the photo game?
Bmx/Skate-Jeff Allen, Jeff Z, Nuno, Keith Romanowski, Jordan Conway, etc. ha
Non Bmx- too many ha
What do you shoot with?
D200
50mm
10.5
Flashes/Pws
Muffinman-bumpjump to wall to whip over the side walk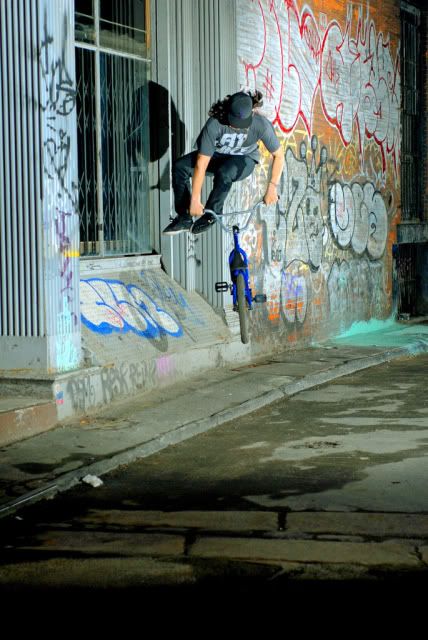 Do you enjoy shooting skate board stuff more then bmx stuff, if so why?
Sometimes I do because I always have been a fan of skate photography and loved skateboarding but most of my friends ride around here and I only shoot skating once and a while
Garden skate team member(i4got his name)doin a back kickflip over the gap
So your moving to the city soon if all goes as planed, is having to deal with Muff and Johnson making you come out everyday going to be a problem?
Ha it won't. I love riding around the city and shooting. I'm just never too good about sending photos through on time. Haha
What's your favorite trick to shoot?
I would say anything with some style and street mixed. Smiths, bars, hops, wallrides, etc.
Muffinman-wallride air
Who do you usually shoot with?
Usually when home just a mix of the pitts crew (Nard, Wilke, Jake, Killa, Louie, Roy, and others) When not home usually Tom, Muff, Nyc riders, ct. riders, and others
Alex(the savage)Platt-rail hop 180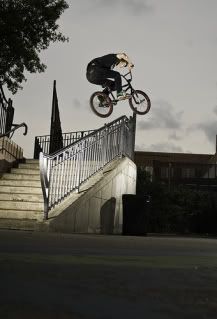 Is it true u stole pretzels while riding by a pretzel cart when u were broke and homeless one night in NYC?
Yea when necessary nard and me will make dah moves to get dah goods.
Any thanks or anything?
Thanks to all my friends and family. Nard, Muff, Tom, Jaryn, Wilke, Knoxville, Jake, Johnson, Killa Bona, Burke, Shaw, Scallion, Corey, Tookie, Mastroni, Da Boss, Johnny and anyone else that's a homie, helped me out, or let me crash at their place. It is impossible to remember.
And how wild is tookie?ha
Wildest man on da streets of far rock